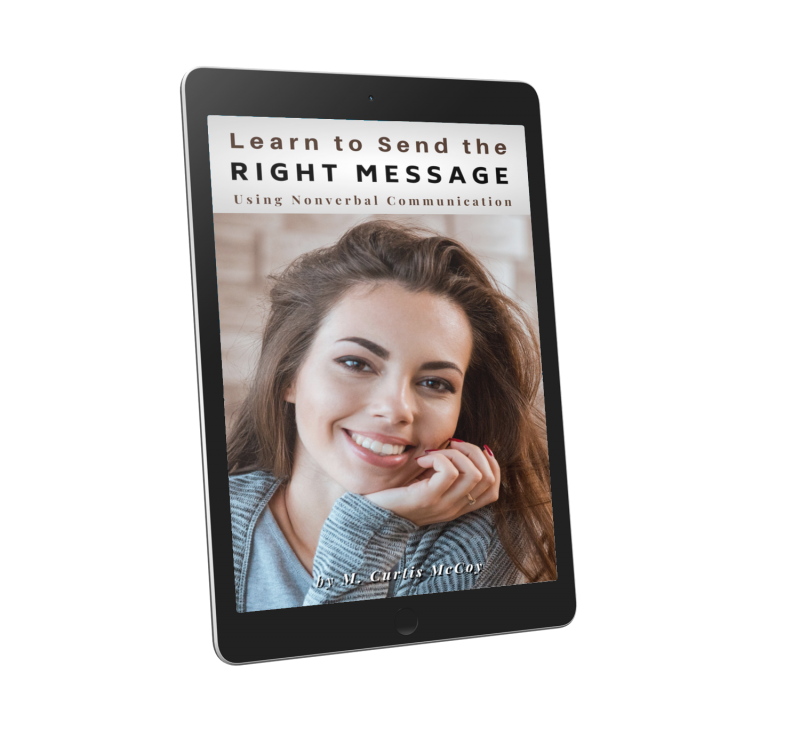 Learn powerful methods of communication using body language
Have you ever been misunderstood while communicating via text message, email, or social media? Why is it important that we learn how to send the right message? The majority of human communication is based on nonverbal signals. Two studies in the 1960s by Albert Mehrabian and his colleagues concluded that 93% of our communication uses nonverbal cues. Nonverbal communication splits between body language and tone of voice (55% and 38%, respectively). We communicate only 7% of our message through the words themselves. The results of this study came to be known as the 7% rule.Of course, these percentages vary for each individual. But the fact remains that we communicate a large part of any message nonverbally. Let's discuss these aspects of communication so we can learn how to send the right message.
Order Now!
About the Book
In the age of text messages, emails, and social media, it's easy to be misunderstood. But what about speaking live and in person? Learn how to communicate effectively using your body language and phrasing in Learn to Send the Right Message: Using Nonverbal Communication! Inside, you'll discover the easiest and fastest methods to both read your audience and deliver your own message. For example, looking for cues like defensive behavior allows you to deal with complex issues without making enemies. Did you know that your eyes can speak volumes more than your mouth? Learn how to tell your story with just a look! See how the appropriate posture can command respect from others. You too can build lasting trust in your relationships using the right body language. Then, discover how your tone of voice frames your message. Learn a powerful trick using the timing of your words to captivate and connect with your audience! Your words only express 7% of your message. Wouldn't you like to know how to get across the other 93% quickly and effectively? Now you can, using the skills and techniques in this short book.
Endorsements
"I love this Authors writting style With this book He Basically makes psychology Very easy to understand! In the case of Reading someone thru their actions...I love this book because Its Like a Everything you need to know (psychology) in 5 mins.. Nd very Easy to understand! I enjoyed reading this book."
– Michael A.
"This book has so many great tips and lessons to learn from Nonverbal communication and how to improve it. For a short read, it really packs in GREAT INFORMATION that you can use to your advantage. I am so thrilled I found this book!"
– Mayra M.
"In an age where everyone mostly interacts online through text, a book like this is invaluable. It shows how your actions come across and what you can do to easily boost your interpersonal relationships. Highly recommended!"
– Jonathan S. Liedtke
"As someone with social anxiety, I didn't know that I come across as disinterested or combative. This books helped illuminate a few things for me and I'd suggest anyone going into a job interview or giving a speech read this. Really good, will look forward to more books from this author."
– Fifi Las Vegas
"Have you ever noticed or heard someone say, "Just call them, the tone of emails are so easily misinterpreted." I always knew there was something to this, but hadn't spent the time to learn what it was......until this book. Learning to send the right message is critical is todays digital age. Positive social interaction is more important that ever. Don't miss this quick and easy read that provides highly effective tools for all of your communications!"
– Ray Brehm
"This was an enjoyable and quick read. I wish it listed examples but then it wouldn't be a quick ebook! It makes you more aware of how you're being perceived by others especially when only a few words are exchanged. It's food for thought."
– Kathy J.
Disclosure of Material Connection: Some of the links in the page above are "affiliate links." This means if you click on the link and purchase the item, I will receive an affiliate commission. I am disclosing this in accordance with the Federal Trade Commission's
16 CFR, Part 255
: "Guides Concerning the Use of Endorsements and Testimonials in Advertising."